Director Cynthia Frueh founded Makoto Kai Healing Arts (MKHA) in 1996. It is a massage school that provides the education to practice therapeutic massage. MKHA promotes the teachings of Danzan Ryu, a system of jujitsu and healing arts developed by the founder of Danzan Ryu, Master Henry Okazaki.
For the course schedule contact the school at cynthia@makotokaihealingarts.com
Massage Course Pre-Registration and Fees
If you will be attending from out of town, click here for a list of local motels and inns.
Photos
Click on a link below to see a gallery of selected photos.
Background
MKHA is approved by the Danzan Ryu Seifukujitsu Institute (DZRSI), a national massage program that is a division of the American Judo & Jujitsu Federation. The courses are open to all qualified persons, whether or not they are in jujitsu, but the primary beneficiaries are students of Danzan Ryu Jujitsu pursuing a course of study that enhances their jujitsu studies.
Professor Okazaki taught jujitsu and massage to his students, promoting the idea that the fighting spirit should be balanced by the healing spirit. His technique is derived from his training in Japanese restorative techniques as well as traditional Hawaiian bodywork.
Makoto Kai Healing Arts continues a long tradition of passing Professor Okazaki's legacy on to our students.
Non-jujitsu students are welcome to participate in courses at MKHA. No martial arts background is required to achieve the full benefit of our courses.

Course Descriptions
Module 1 DZR RT - Basic Course (150 hours)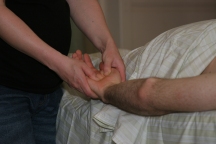 90 Hours Practical Applications - Practice of the basic massage
25 Hours Anatomy and Physiology
25 Hours History and Theory - Traditional Oriental Medical Theory
10 Hours Ethics, Contraindications, and Hygeine

Prerequisites for Module 1:
High School diploma or equivalent
At least 18 years of age
Membership in the American Judo and Jujitsu Federation
Ability to attend classes
General good health
Ability to understand and read English


Module 2 DZR RT - Graduate Course (150 hours)
90 Hours Practical Applications - Kata, Theory, Therapeutics, Seifukujitsu
25 Hours Anatomy and Physiology
25 Hours Inner Climate - Qi Gong or Yoga and Personal Development
10 Hours Ethics, Contraindications, and Hygeine

Prerequisites for Module 2:
Successful completion of Module 1 DZR RT
Regular, on-going practice of DZR RT